Immunohistochemistry Research Lab (IHC Research Lab)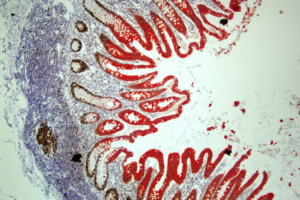 Affiliation:
Indiana University School of Medicine
Director:
Website:
Description:
The Immunohistochemistry Research Lab specializes in assisting researchers with histologic and immunohistochemical labeling of cells or tissue sections as well as collaborations with surgical pathologists. To this end, basic histological services are also offered, e.g. paraffin and frozen sectioning.
Services:
Histopathlogy:
• Processing of formalin fixed tissue into paraffin
• Sectioning of paraffin blocks
• Decalcification
• Other tissue procedures such as cutting thick sections, scrolls, multiple levels per slide, whole mounts, and punches
• Processing and sectioning of frozen tissues
• Stains include routine hematoxylin and eosin (H&E) as well as special stains

Immunohistochemistry:
For immunostaining of frozen or paraffin-embedded tissue sections, both traditional "brown stains" (horseradish peroxidase + DAB), alkaline phosphatase (AP) in conjunction with multiple colors for the purpose of multiplex labeling and fluorescent-labeled probes are available.

Clinical Antibodies:
The Immunohistochemical Core Lab offers a number of clinical antibodies for immunolabeling primarily human tissue sections. The Immunohistochemical Lab staff can titer new antibodies.
Contact: