Mass Spectrometry Facility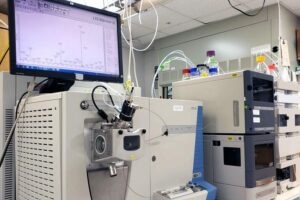 Affiliation:
Indiana University Bloomington
Faculty Advisor:
Research Scientist:
Facility Manager:
Website:
Description:
The Indiana University Mass Spectrometry Facility (MSF) provides qualitative and quantitative small molecule mass spectrometry data. It also confirms chemical formulae of novel compounds by accurate mass spectrometry. It has clients from the Chemistry, Biology, and Geology Departments in the Bloomington College of Arts and Sciences, the Bloomington School of Environmental and Public Affairs, as well as those from outside of Bloomington including IUPUI, the IU School of Medicine, Purdue, Butler, and Vanderbilt Universities. A subset of services provided includes:
Accurate mass determination and formula confirmation for novel synthetic compounds using electrospray ionization (ESI), atmospheric pressure chemical ionization (APCI), and electron impact (EI).
Quantitative measurements of small molecule metabolites by TMS or TBDMS silylation and GC-MS and LC-MS-MS (GC-QTOF, LC-triple quad, and LC-Orbitrap)
Qualitative and quantitative analysis of volatile and semi-volatile components by headspace GC-MS and stir bar sorptive extraction, purge and trap GC-MS.
Acquisition of mass spectrometric imaging data by MALDI-TOF
Analytical method development or adaptation for any of the above.
Policies:
Contact: