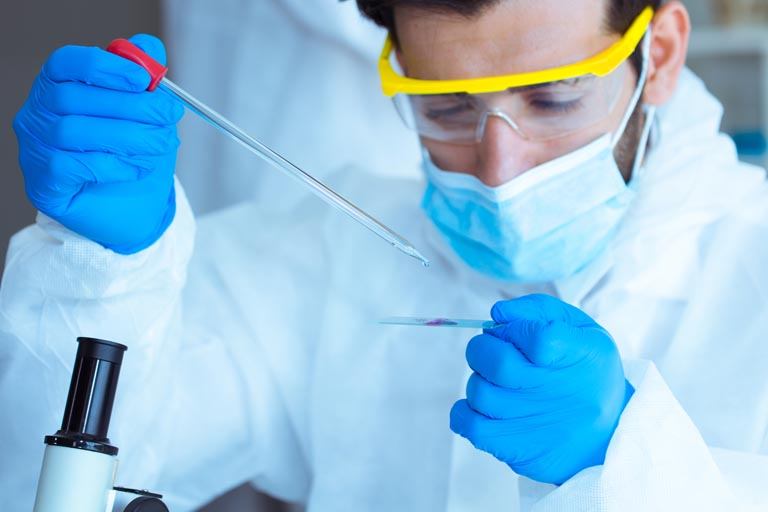 CTSL Director: Christie M. Orschell, Ph.D.
SSF Director: Robert Orr

Website: https://indianactsi.org/biospecimen/biomanagement
Description:
The Biospecimen Management Core (BMC), comprised of the Specimen Storage Facility and the Clinical and Translational Support Laboratory, offers cost-efficient processing & storage services with a focus on consistent quality and sample integrity.

The Specimen Storage Facility (SSF) currently maintains four mechanical freezer storage sites, a LN2 freezer storage site, and a nucleic acid extraction laboratory. Both investigator and SSF owned freezers are monitored and maintained by SSF staff 24/7 to virtually eliminate specimen loss due to freezer failures. Quality is maintained via our contracted independent QA oversight and guidance. Our facility and procedures are ISBER compliant (International Society for Biological and Environmental Repositories).

The Clinical and Translational Support Laboratory (CTSL) provides SOP-driven, protocol specific processing and shipping services for studies collecting human derived research specimens. The highest levels of quality and consistency are assured due to our voluntary compliance to GCPs and GLPs along with independent QA oversight.


Policies:
Services Offered:
Specimen Storage – Space for PI owned Mechanical freezers * Space in CTSI freezers that may be leased in units as small as one 2 inch box for LN2 specimen storage or 1/2 rack (8 2 inch boxes) in a -80C mechanical freezer * Alarm response and back-up storage capacity
Sample Processing – Basic processing * Preparation of samples for future analysis performed to protocol specific requirements
Shipping Services – Trained and certified for shipping exempt/Category B specimens (IATA/DOT/EHS compliant training)
Protocol Support and Setup – Consultation * Sample collection kit preparation * Label design and printing
DNA extraction – Available for trials utilizing the CTSL for processing – Specimen aliquoting * Sample management * Bar-code tube and packet preparation * Sample Processing * DNA extraction * PBMC isolation
LN2 and Dry Ice Supply – Cost effective source for critical storage/shipping coolants
Affiliated Biorepositories – – The Indiana Biobank (IB) was established in July 2010 to create a bank of blood and saliva samples from Hoosier volunteers. These samples are linked to the participants\\\' medical information. The samples and medical information will be made available to scientists who will carry out studies that will ultimately improve the health of Hoosiers.
– The Komen Tissue Bank is a repository of richly annotated biologic specimens from volunteers without evidence of breast cancer.
– The IU Simon Cancer Center (IUSCC) Tissue Bank provides cancer researchers with tumor tissue that is suitable for modern cancer research (generally snap frozen or as required by the investigator).
– Indiana Center for Biomarker Research in Neuropsychiatry (INBRAIN) ( anicules@iupui.edu ) Postmortem brain and fluids bank for psychiatric disorders.
– MRI Biorepository ( vslivova@clarian.org ) collection consists of variety of fully annotated frozen samples from more than 3000 patients. Collection includes cancerous, non-malignant and normal tissues as well as matched serum and urine.
– The National Gene Vector Biorepository (NGVB) provides Archiving Services; Insertional Site Analysis, Pharmacology and Toxicology Resources, and a Reagent Repository for gene therapy investigators working in academic or other non-profit organizations. The databases and educational resources are open to everyone.
– The IU Genetics Biobank (IUGB) provides the research community with DNA and cell lines from large numbers of informative families with multiple individuals affected with Alzheimer Disease or related diseases. IUGB also have available neurologically evaluated control samples. IUGB samples are available for qualified researchers who are interested in expanding the understanding of the etiology, pathogenesis, diagnosis, treatment and prevention of diseases like AD.
– Human Tissues and Organs for Research (HTOR) provides human tissues and organs to NIH-funded and university-based investigators and is supported by funding from NDRI, which has developed specialized programs targeted to increase the supply of human tissues and organs for specific areas of research with the highest demand for more resources.
Contact Information:
Robert Orr
Email This Core
317-944-9726