Biochemical Genetics Laboratory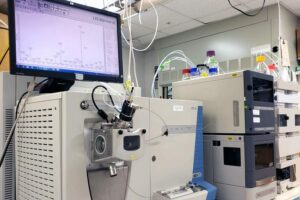 Affiliation:
Indiana University School of Medicine
Director:
Website:
Description:
The IU Biochemical Genetics Laboratory (IUBGL) is a clinical testing lab that performs targeted metabolomics analyses designed to diagnose and manage patients with inherited metabolic disease. Our laboratory is a division of the IU Genetics Testing Laboratories within the IU School of Medicine in Indianapolis, IN. Testing provided by the IUBGL can be commissioned for research studies and applied not only to human plasma/urine/CSF/blood spot cards, but to a wide range of biofluids and tissue extracts derived from model organisms or cell cultures. Our assays are developed and performed in compliance with CAP/CLIA accreditation meaning they meet strict requirements for analytical sensitivity, specificity, and reproducibility, and are routinely benchmarked against outside reference material to ensure accuracy. Unique strengths of our laboratory include our novel liquid chromatography tandem mass spectrometry (LC-MS/MS) assays for amino acids and acylcarnitines (see Test Details). These clinically validated tests provide excellent sensitivity/specificity for the detection of dozens of analytes relevant to human disease including separation and quantification of challenging isobaric analytes typically missed by untargeted global metabolomics analyses.
Policies:
Services:
Quantitative Acylcarnitine panel (see Test Details)

Quantitative Amino acid panel (see Test Details)

Quantitative Methylmalonic acid

Quantitative Free and Total Carnitine Analysis

Semi-Quantitative Urine Organic Acid Profile

Blood Spot Analyte Quantification

Custom Development of Quantitative Metabolite Assays (contingent on a number of factors)
Contact: